October 18, 2020 — Fifteenth Planting (2 trees and 2 bushes planted)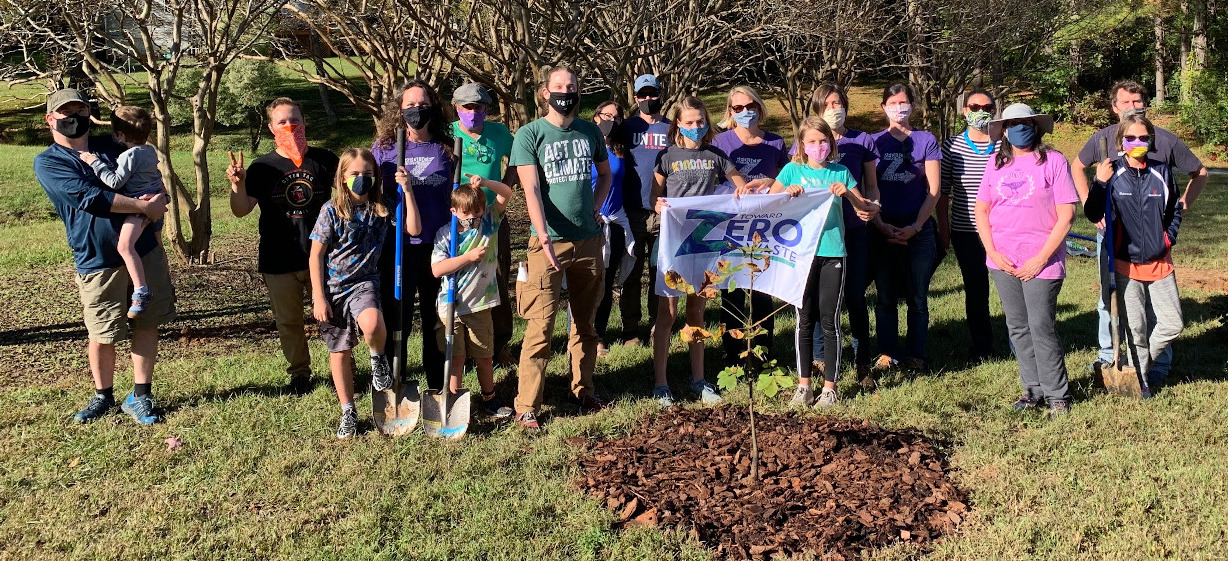 Left to right: Greg Couch, Rowan Couch, Dave Klemp, Tea Gilmore, Dargan Gilmore, Pierce Gilmore, George McDowell, Jean-Luc Duvall, Maryanne Borisow, Nick Borisow, Zoe Williams, Kathleen Leibowitz, Ava Williams, Leigh Williams, Megan Holler, Andrea Rushing, Mary Collins, Michael Williams, Sonoma Rushing.
Tree Number
Tree Species
Date Planted
By Whom Planted
102A & 102B
Southern Moon Hawthorne
Rhaphiolepis umbellata

October 18, 2020
Those in the photo planted the trees. The four youngest members did most of the work!
102C & 102D
Shagbark hickory
Carya ovata


Toward Zero Waste was honored to plant in the Cary Tree Archive's Fruit & Nut Orchard. This is a great fit since, ultimately, growing your own food (fruit and nuts) decreases the packaging going into our landfills. We are excited that our community will one day soon be able to wander through this orchard and be fed, from nature, for free, and without unnecessary plastic packaging!

As an organization, our mission is to raise awareness around environmental issues, especially those of waste, and heal the environment. We feel that this must be done on multiple levels by all who care. Being able to partner with other organizations to that end elevates each of our purposes. The planting of trees on a very basic level heals some of the damage we have done by mindlessly clear cutting (a huge waste of nature's carbon-drawdown machines) and incorrectly planting non-native trees. What we loved about our experience at the Archive was being able to put four trees in the ground, and that we are able to learn to do it correctly. I immediately went home and replanted two young trees that had been incorrectly (professionally!) planted in my yard. Now these trees have a chance to thrive and reach their full potential.

We thank Keep the Canopy-Cary, George McDowell, the Cary Tree Archive, Trees for the Triangle and the Parkway Community Association for creating this amazing space. We hope to make tree planting in the Archive a yearly event for Toward Zero Waste!